Feedipedia news
If you are a Feedipedia reader, you know that improving feeding is key to successful livestock farming.
In a recent blog post, our colleague Alan Duncan from ILRI also explains why livestock feeding is so important and how the FEAST tool helps farmers to optimize livestock feeding. 
Read the post here: www.ilri.org/feed-assessment-tool-feast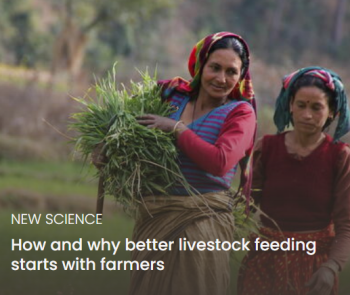 Explore Feedipedia
| | | |
| --- | --- | --- |
| The flamboyant (Delonix regia (Bojer) Raf.) is a perennial legume tree, grown in... Read more | | The century plant (Agave americana L.) is a perennial succulent herb, up to 10 m... Read more |
| Moth bean (Vigna aconitifolia (Jacq.) Marechal) is an annual herbaceous trailing... Read more | Andropogon canaliculatus Schumach. is a short perennial savanna grass native of... Read more | The barrel medic (Medicago truncatula Gaertn.) is a small annual weedy legume... Read more |
| The grapevine (Vitis vinifera L.) is a woody vine cultivated worldwide for its... Read more | Quila (Chusquea quila Kunth) is a perennial woody grass of the bamboo family... Read more | |
| Elephant grass (Pennisetum purpureum Schumach.) is a major tropical grass. It is... Read more | The almond tree (Prunus dulcis (Mill.) D. A. Webb) is cultivated worldwide for... Read more | Sweet potato (Ipomoea batatas (L.) Lam.) is a plant grown for its tuberous roots... Read more |
| Guinea grass (Megathyrsus maximus (Jacq.) B. K. Simon & S. W. L. Jacobs) is... Read more | The prickly sesban (Sesbania bispinosa (Jacq.) W. F. Wight) is a fast-growing... Read more | African spiderflower (Gynandropsis gynandra L.) is an tropical annual herb... Read more |
| The banyan tree (Ficus benghalensis L.) is a large evergreen tree native of Asia... Read more | Bambara groundnut (Vigna subterranea (L.) Verdc.) is an annual, creeping... Read more | |
| Cockspur grain is the seed of the cockspur grass (Echinochloa crus-galli (L.) P... Read more | | Ganna bush (Salsola aphylla) is a succulent, halophytic shrub native of southern... Read more |
Pages
Broadening horizons
By Chong Wang 1, Jianxin Liu 2, Harinder P.S. Makkar3, Jinyong Yang4 
This paper introduced the concept of Animal Raising Zones (ARZs) and lists advantages of rearing dairy cattle in these zones. In addition, some existing implementation issues that prevent realization of full potential of the ARZs are also presented. The site selection for, and construction of, the ARZs, production management, member participation options and dividend sharing modes of the Zones are discussed. The information presented here would help the upcoming ARZs managements and the existing ones to implement good management practices to harvest the maximum benefits from the ARZs.
Recent resources

The role of livestock in food security, poverty reduction and wealth creation in West Africa - Molina-Flores et al., 2020. Food and Agriculture Organization of the United Nations Accra, 2020
Livestock is key to 377 million people in West Africa and in some countries, up to 60% of the population is involved in livestock production. The demand for animal products is increasing with population growth, urbanization, growing middle class, and due to shifting consumer preferences towards animal products. To meet this growing demand, countries in West Africa must engage in accelerated sustainable livestock production undertaking. Livestock development is key to eradicate hunger and poverty. This book attempts to provide up-to-date, and reliable information on the potentials, opportunities, and challenges of the livestock subsector in West Africa. 

Pulses and their by-products as animal feed - Sherasia et al., 2017. In: Calles, T.; Makkar, H. P. S. (Eds), FAO, Food and Agriculture Organization of the United Nations, Rome, Italy
This document provides a state-of-the-art review of the recent research (published and unpublished) on the use of pulses and their by-products as animal feed. It aims at raising awareness on the use of pulses and their by-products. It highlights the nutritional role of pulses and pulse by-products as animal feed and is a contribution to the legacy of the 2016 International Year of Pulses. This document will further enhance the use of these feed resources in other continents, besides Asia, where many pulse by-products are simply dumped. It is also expected that the synthesis presented contributes to make the use of pulses and their by-products as animal feed more efficient. This document will be useful for extension workers, researchers, feed industry, policy-makers and donors alike.

Opinion paper: A regional feed action plan – one-of-a-kind example from East Africa - Opio et al., 2020. Animal, 1-4
Open access document. This paper puts forward a case for formulation of a regional animal feed action plan (RAFAP) and highlights its potential benefits.