Feedipedia: an on-line encyclopedia of animal feeds
Feedipedia is an open access information system on animal feed resources that provides information on nature, occurrence, chemical composition, nutritional value and safe use of nearly 1400 worldwide livestock feeds. It is a joint project of INRA, CIRAD, AFZ and FAO. Read more...
Explore Feedipedia
| | | |
| --- | --- | --- |
| Silkworms are the caterpillars of moth species raised for silk. 90% of the world... Read more | Camelina (Camelina sativa (L.) Crantz) is an ancient oil and food crop with... Read more | Maize (Zea mays L.) is a major staple food grain throughout the world,... Read more |
| The proso millet (Panicum miliaceum L.) is a cereal plant cultivated for its... Read more | Mexican marigold (Tagetes erecta L.) is an herbaceous plant from the sunflower... Read more | Imperata cylindrica (L.) P. Beauv., known as speargrass in Nigeria, alang-alang... Read more |
| Burgu (Echinochloa stagnina (Retz.) P. Beauv.) is a perennial, or sometimes... Read more | Brewers grains are the solid residue left after the processing of germinated and dried... Read more | The buffalo thorn (Ziziphus mucronata Willd.) is a multipurpose tree whose... Read more |
| The Indian sandbur (Cenchrus biflorus Roxb.) is a valuable fodder plant... Read more | Luffa (Luffa aegyptiaca Mill.) is a plant from the cucumber family, mainly grown... Read more | Arrowroot (Maranta arundinacea L.) is a tropical herb used for its tubers, which... Read more |
| Soybean (Glycine max (L.) Merr.) is the largest oilseed crop, with 276 million t... Read more | Slender grama (Bouteloua repens (Kunth) Scribn.) is a pasture grass from the dry... Read more | Signal grass (Brachiaria decumbens Stapf or Urochloa decumbens (Stapf)... Read more |
| Pinto peanut (Arachis pintoi Krapov. & W.C. Greg.) is a perennial tropical... Read more | The rubber tree (Hevea brasiliensis) is a fast growing, medium to tall tree (25... Read more | Nacedero (Trichanthera gigantea (Humboldt & Bonpland.) Nees) is a... Read more |
| Sesame (Sesamum indicum L.) is a tropical and subtropical plant cultivated for... Read more | Maize silage (Zea mays L.) is made out of whole ensiled maize plants. It is one... Read more | Adenodolichos paniculatus (Hua) Hutch. is a perennial woody multi-purpose shrub... Read more |
Pages
Broadening horizons
By Harinder P.S. Makkar1, Emily Addonizio2, Lemma Gizachew2, Alberto Giani2 and Abdoul Karim Bah2
In countries across the Horn of Africa and in many other parts of the world, the lack of feed inflicts major adverse effects on livestock during times of drought. This has been identified as a major problem by development agencies, NGOs, researchers and extension workers alike, and one which must be addressed urgently. This article discusses and prioritises feeding strategies, which can be used under emergencies in dry areas.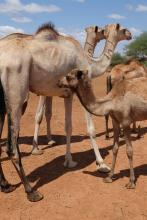 Recent resources

Forages for the future - Maass et al., 2018. Forages Newsletter No. 6, CGIAR
The newsletter, "Forages for the Future", launched in June 2016, resulted of a meeting of experts in October 2015 in Bonn, Germany, to discuss a Global Strategy for the Conservation and Utilization of Tropical and Subtropical Forage Genetic Resources. This newsletter is the 6th of the series. The former newsletters are available from http://goo.gl/vn9VZX. The newsletter is published under the auspices of the CGIAR Research Program "Genebanks"; its editors are Bruce Pengelly and Brigitte Maass, consultants of the Global Crop Diversity Trust.

Tables of composition and nutritional values of organically produced feed materials for pigs and poultry - Kyntäjä et al., 2014. MTT Report 164
This reports presents the composition and nutritive values for pigs and poultry of 40 organically produced feeds and roughages. Energy and protein values are provided according the French, Dutch, Danish, British, German and Swiss feed evaluation systems.

Métodos de pesquisa em nutrição de monogástricos - Sakomura et al., 2007. Jaboticabal, FUNEP, 283 p.
This book presents the concepts and experimental protocols used in monogastric nutrition research to determine the nutritional values and requirements for energy, protein, amino acids, minerals, and vitamins.