Feedipedia news
As a reader of Feedipedia, you are probably concerned about the future of food and feed. And you are probably wondering how it will be possible to produce enough food and feed for everyone in the context of climate change. We are glad to announce "Food and Feed for the Future", an international workshop sponsored by the OECD Co-operative Research Programme "Sustainable agricultural and food systems" to be held in Lyon (France), on September 1st. Early bird rates and deadline for abstracts submissions: June 15th. Register here : https://oecdfoodandfeed.sciencesconf.org/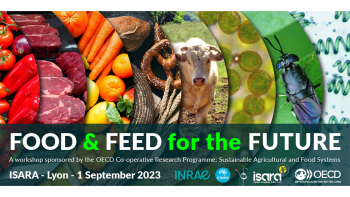 Explore Feedipedia
| | | |
| --- | --- | --- |
| Dates, the fruits of the date palm tree (Phoenix dactylifera L.), are a major... Read more | Adenodolichos paniculatus (Hua) Hutch. is a perennial woody multi-purpose shrub... Read more | Locusts, grasshoppers (mostly Acrididae and Pyrgomorphidae), crickets (Gryllidae) and... Read more |
| Arrowroot (Maranta arundinacea L.) is a tropical herb used for its tubers, which... Read more | Blue lupin (Lupinus angustifolius L.) is one of the 200 species of lupins, a... Read more | White lupin (Lupinus albus L.) is one of the 200 species of lupins, a genus of... Read more |
| Tomato (Lycopersicon esculentum Mill.) leaves and crop residues (stubble, stalk... Read more | The macadamia tree (Macadamia integrifolia Maiden & Betche, Macadamia... Read more | The jackfruit tree (Artocarpus heterophyllus Lam.) is a tropical to subtropical... Read more |
| The Assyrian plum (Cordia myxa L.) is a multipurpose, perennial, medium sized,... Read more | The colocynth (Citrullus colocynthis (L.) Schrad.) is a member of the cucurbits... Read more | Borneo tallow nut oil cake is the product resulting from the oil extraction of the fruit... Read more |
| Annatto (Bixa orellana L.) is a tropical and subtropical perennial shrub or... Read more | Niger (Guizotia abyssinica (L. f.) Cass.) is an oilseed crop cultivated in... Read more | Marula (Sclerocarya birrea (A. Rich.) Hochst.) is a multipurpose deciduous... Read more |
| Bengal indigo (Indigofera arrecta Hochst. ex A. Rich.) is a multipurpose, stout... Read more | The peach palm (Bactris gasipaes Kunth) is a dual-purpose tropical tree... Read more | Tomatoes (Lycopersicon esculentum Mill.) are one of the major vegetables and... Read more |
| The bitter gourd (Momordica charantia L.) is an horticultural species from the... Read more | Gamba grass (Andropogon gayanus Kunth) is a perennial leafy grass of tropical... Read more | Zornia (Zornia glabra Desv.) is a perennial legume grown for forage in Latin... Read more |
Pages
Broadening horizons
By Chong Wang 1, Jianxin Liu 2, Harinder P.S. Makkar3, Jinyong Yang4 
This paper introduced the concept of Animal Raising Zones (ARZs) and lists advantages of rearing dairy cattle in these zones. In addition, some existing implementation issues that prevent realization of full potential of the ARZs are also presented. The site selection for, and construction of, the ARZs, production management, member participation options and dividend sharing modes of the Zones are discussed. The information presented here would help the upcoming ARZs managements and the existing ones to implement good management practices to harvest the maximum benefits from the ARZs.
Recent resources

The role of livestock in food security, poverty reduction and wealth creation in West Africa - Molina-Flores et al., 2020. Food and Agriculture Organization of the United Nations Accra, 2020
Livestock is key to 377 million people in West Africa and in some countries, up to 60% of the population is involved in livestock production. The demand for animal products is increasing with population growth, urbanization, growing middle class, and due to shifting consumer preferences towards animal products. To meet this growing demand, countries in West Africa must engage in accelerated sustainable livestock production undertaking. Livestock development is key to eradicate hunger and poverty. This book attempts to provide up-to-date, and reliable information on the potentials, opportunities, and challenges of the livestock subsector in West Africa. 

Pulses and their by-products as animal feed - Sherasia et al., 2017. In: Calles, T.; Makkar, H. P. S. (Eds), FAO, Food and Agriculture Organization of the United Nations, Rome, Italy
This document provides a state-of-the-art review of the recent research (published and unpublished) on the use of pulses and their by-products as animal feed. It aims at raising awareness on the use of pulses and their by-products. It highlights the nutritional role of pulses and pulse by-products as animal feed and is a contribution to the legacy of the 2016 International Year of Pulses. This document will further enhance the use of these feed resources in other continents, besides Asia, where many pulse by-products are simply dumped. It is also expected that the synthesis presented contributes to make the use of pulses and their by-products as animal feed more efficient. This document will be useful for extension workers, researchers, feed industry, policy-makers and donors alike.

Opinion paper: A regional feed action plan – one-of-a-kind example from East Africa - Opio et al., 2020. Animal, 1-4
Open access document. This paper puts forward a case for formulation of a regional animal feed action plan (RAFAP) and highlights its potential benefits.