Feedipedia: an on-line encyclopedia of animal feeds
Feedipedia is an open access information system on animal feed resources that provides information on nature, occurrence, chemical composition, nutritional value and safe use of nearly 1400 worldwide livestock feeds. It is a joint project of INRA, CIRAD, AFZ and FAO. Read more...
Explore Feedipedia
| | | |
| --- | --- | --- |
| The breadnut tree (Brosimum alicastrum Swartz) is a tree mostly grown in Central... Read more | Blue signal grass (Brachiaria leersioides (Hoschst.) Stapf) is an annual grass... Read more | Black medic (Medicago lupulina L.) is a creeping annual legume from temperate... Read more |
| Black-hooked acacia (Senegalia laeta (R.Br. ex Benth.) Seigler & Ebinger,... Read more | Black cutch (Senegalia catechu P.J.H. Hurter & Mabb., formerly known as ... Read more | Mealworms are the larvae of two species of darkling beetles of the Tenebrionidae family, ... Read more |
| Bakery wastes are products obtained from the recycling of bakery and viennoiserie... Read more | American jointvetch (Aeschynomene americana L.) is an annual tropical legume... Read more | Ahuhu (Tephrosia purpurea (L.) Pers.) is a multipurpose tropical legume mainly... Read more |
| African locust bean (Parkia biglobosa (Jacq.) G.Don and Parkia filicoidea ... Read more | The acacia species Senegalia brevispica (Harms) Seigler & Ebinger (formerly... Read more | Sugarbeet pulp is the fibrous, energy rich by-product resulting from the water extraction... Read more |
| Sugarbeet pulp is the fibrous, energy rich by-product resulting from the water extraction... Read more | The sugarcane plant (Saccharum officinarum) is primarily cultivated for sugar... Read more | Potato tubers are the subterranean swollen, starchy tubers of the potato plant (... Read more |
| Crambe (Crambe abyssinica Hochst. ex R. E. Fr.) is a cruciferous oil plant that... Read more | Fenugreek (Trigonella foenum-graecum L.) is an annual herbaceous legume suitable... Read more | Cadaba (Cadaba farinosa Forssk.) is an evergreen shrub found in Africa that is... Read more |
| Cockspur grass (Echinochloa crus-galli (L.) P. Beauv.) is a tall, robust, tufted... Read more | Coral tree (Erythrina variegata L.) is a spreading tropical and subtropical tree... Read more | Guanacaste (Enterolobium cyclocarpum (Jacq.) Griseb.) is a fast growing forage... Read more |
Pages
Broadening horizons
By Harinder P.S. Makkar1, Emily Addonizio2, Lemma Gizachew2, Alberto Giani2 and Abdoul Karim Bah2
In countries across the Horn of Africa and in many other parts of the world, the lack of feed inflicts major adverse effects on livestock during times of drought. This has been identified as a major problem by development agencies, NGOs, researchers and extension workers alike, and one which must be addressed urgently. This article discusses and prioritises feeding strategies, which can be used under emergencies in dry areas.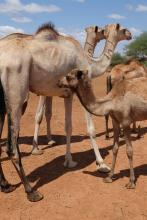 Recent resources

Table 'Standardized ileal digestibility of amino acids in feedstuffs for poultry' - Blok et al., 2017. CVB Documentation report nr. 61, November 2017
This document presents standardized ileal amino acid digestibility of feedstuffs for poultry derived from literature data on both ileal and standardized digestibilities.

Forages for the future - Maass et al., 2018. Forages Newsletter No. 6, CGIAR
The newsletter, "Forages for the Future", launched in June 2016, resulted of a meeting of experts in October 2015 in Bonn, Germany, to discuss a Global Strategy for the Conservation and Utilization of Tropical and Subtropical Forage Genetic Resources. This newsletter is the 6th of the series. The former newsletters are available from http://goo.gl/vn9VZX. The newsletter is published under the auspices of the CGIAR Research Program "Genebanks"; its editors are Bruce Pengelly and Brigitte Maass, consultants of the Global Crop Diversity Trust.

Tables of composition and nutritional values of organically produced feed materials for pigs and poultry - Kyntäjä et al., 2014. MTT Report 164
This reports presents the composition and nutritive values for pigs and poultry of 40 organically produced feeds and roughages. Energy and protein values are provided according the French, Dutch, Danish, British, German and Swiss feed evaluation systems.