Did you find the information you were looking for? Is it valuable to you? Feedipedia is encountering funding shortage. We need your help to keep providing reference-based feeding recommendations for your animals.
Would you consider donating? If yes, please click on the button Donate.
Any amount is the welcome. Even one cent is helpful to us!
Feedipedia news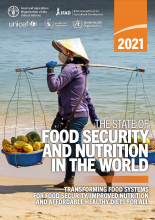 FAO report on The State of Food Security and Nutrition in the World 2021 is now available. It presents the first global assessment of food insecurity and malnutrition for 2020. Hunger will not be eradicated by 2030 unless bold actions are taken to accelerate progress, especially actions to address inequality in access to food. Gender inequality being one main driver with prevalence of moderate or severe food insecurity being 10 percent higher among women than men in 2020, compared to 6 percent in 2019. The report highlights the need for a deeper reflection on how to better address the global food security and nutrition situation.
Explore Feedipedia
| | | |
| --- | --- | --- |
| The wild amaranth (Amaranthus graecizans L.) is an annual, summer growing herb... Read more | Signal grass (Brachiaria decumbens Stapf or Urochloa decumbens (Stapf)... Read more | Achyranthes aspera L. is an herbaceous plant from the tropics and subtropics, ... Read more |
| Faba bean (Vicia faba L.) is a legume crop grown primarily for its edible seeds... Read more | Quinoa (Chenopodium quinoa Willd.) is an Andean pseudo-cereal crop that is... Read more | Straw is the crop residue consisting of the dry stems and leaves left after the harvest... Read more |
| Alyce clover (Alysicarpus ovalifolius (Schumach. & Thonn.) J. Léonard) is an... Read more | Cisssus quadrangularis is a deciduous, woody climber belonging to the grape... Read more | Sheanut (Vitellaria paradoxa C. F. Gaertn.) is a deciduous, small to medium-... Read more |
| Imperata cylindrica (L.) P. Beauv., known as speargrass in Nigeria, alang-alang... Read more | Lentil (Lens culinaris Medik.) is a legume mainly grown for its edible seeds (... Read more | Hedge lucerne (Desmanthus virgatus (L.) Willd.) is a highly variable perennial... Read more |
| Bahia grass (Paspalum notatum Flügge) is a perennial rhizomatous grass, up to 1... Read more | Shrimp meal or shrimp waste meal is the undecomposed ground dried waste of shrimp. There... Read more | Locusts, grasshoppers (mostly Acrididae and Pyrgomorphidae), crickets (Gryllidae) and... Read more |
| Earthworm meal consists in processed worms reared for vermicomposting, a method of... Read more | The flamboyant (Delonix regia (Bojer) Raf.) is a perennial legume tree, grown in... Read more | The castor plant (Ricinus communis L.), also called castor bean plant or castor... Read more |
| Moth bean (Vigna aconitifolia (Jacq.) Marechal) is an annual herbaceous trailing... Read more | The century plant (Agave americana L.) is a perennial succulent herb, up to 10 m... Read more | Andropogon canaliculatus Schumach. is a short perennial savanna grass native of... Read more |
Pages
Broadening horizons
By M. Wadhwa, M. P. S. Bakshi and Harinder P. S. Makkar
The acute shortage of feedstuffs in Asian, Middle East and African countries has prompted Animal Nutritionists to explore new non-conventional feed resources that do not compete with human food. The most promising among these, available in plenty, are fruit and vegetable wastes (FVWs). Currently most FVWs are dumped in wastelands causing environmental pollution. Citrus fruit (Mausambi/sweet lime or kinnow) waste, available in bulk, is rich in nutrients and bio-active compounds. Studies revealed that kinnow waste, after sun drying or ensiling with poor quality crop residues, can be effectively utilized as animal feed, to enhance animal production, mitigate environmental pollution and decrease feeding cost.
Recent resources

The role of livestock in food security, poverty reduction and wealth creation in West Africa - Molina-Flores et al., 2020. Food and Agriculture Organization of the United Nations Accra, 2020
Livestock is key to 377 million people in West Africa and in some countries, up to 60% of the population is involved in livestock production. The demand for animal products is increasing with population growth, urbanization, growing middle class, and due to shifting consumer preferences towards animal products. To meet this growing demand, countries in West Africa must engage in accelerated sustainable livestock production undertaking. Livestock development is key to eradicate hunger and poverty. This book attempts to provide up-to-date, and reliable information on the potentials, opportunities, and challenges of the livestock subsector in West Africa. 

Pulses and their by-products as animal feed - Sherasia et al., 2017. In: Calles, T.; Makkar, H. P. S. (Eds), FAO, Food and Agriculture Organization of the United Nations, Rome, Italy
This document provides a state-of-the-art review of the recent research (published and unpublished) on the use of pulses and their by-products as animal feed. It aims at raising awareness on the use of pulses and their by-products. It highlights the nutritional role of pulses and pulse by-products as animal feed and is a contribution to the legacy of the 2016 International Year of Pulses. This document will further enhance the use of these feed resources in other continents, besides Asia, where many pulse by-products are simply dumped. It is also expected that the synthesis presented contributes to make the use of pulses and their by-products as animal feed more efficient. This document will be useful for extension workers, researchers, feed industry, policy-makers and donors alike.

Opinion paper: A regional feed action plan – one-of-a-kind example from East Africa - Opio et al., 2020. Animal, 1-4
Open access document. This paper puts forward a case for formulation of a regional animal feed action plan (RAFAP) and highlights its potential benefits.