Feedipedia: an on-line encyclopedia of animal feeds
Feedipedia is an open access information system on animal feed resources that provides information on nature, occurrence, chemical composition, nutritional value and safe use of nearly 1400 worldwide livestock feeds. It is a joint project of INRA, CIRAD, AFZ and FAO. Read more...
Explore Feedipedia
| | | |
| --- | --- | --- |
| The cashew tree (Anacardium occidentale L.) is a medium-sized tropical tree... Read more | Calliandra (Calliandra calothyrsus Meisn.) is a small tropical legume tree... Read more | Bulbous canary grass (Phalaris aquatica L.) is a valuable pasture forage of... Read more |
| The breadfruit tree (Artocarpus altilis (Parkinson) Fosberg) is an evergreen... Read more | Apple pomace (Malus domestica Borkh.) is the solid residue that remains after... Read more | Enset (Ensete ventricosum (Welw.) Cheesman) is a tall herbaceous plant from... Read more |
| Spear grass (Heteropogon contortus (L.) Beauv. ex Roem. & Schult.) is a... Read more | Pigeon pea (Cajanus cajan (L.) Huth) is one of the most common tropical and... Read more | Yeheb (Cordeauxia edulis Hemsl.) is a woody legume of the arid semi-deserts of... Read more |
| | | |
| Tagasaste (Cytisus proliferus L. f.), also called tree lucerne, is a fast... Read more | Sporobolus helvolus (Trin.) Dur. & Schinz. is a perennial grass of the dry... Read more | Linseed meal is the by-product of oil production from linseeds (Linum usitatissimum... Read more |
| Peas (usually Pisum sativum L.) are one of the four most important legume crops... Read more | Walnut, the fruit of the walnut tree (Juglans regia L.), has been used in human... Read more | Soybean hulls are a by-product of the extraction of oil from soybean seeds (Glycine... Read more |
| The fruit (pod, nut) of the peanut (Arachis hypogaea L.) consists of an external... Read more | The fruit (pod, nut) of the peanut (Arachis hypogaea L.) is made of an external... Read more | Peanut meal is the by-product obtained after the extraction of oil from peanut seeds (... Read more |
Pages
Broadening horizons
By Harinder P.S. Makkar1, Emily Addonizio2, Lemma Gizachew2, Alberto Giani2 and Abdoul Karim Bah2
In countries across the Horn of Africa and in many other parts of the world, the lack of feed inflicts major adverse effects on livestock during times of drought. This has been identified as a major problem by development agencies, NGOs, researchers and extension workers alike, and one which must be addressed urgently. This article discusses and prioritises feeding strategies, which can be used under emergencies in dry areas.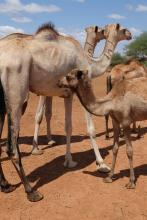 Recent resources

Forages for the future - Maass et al., 2018. Forages Newsletter No. 6, CGIAR
The newsletter, "Forages for the Future", launched in June 2016, resulted of a meeting of experts in October 2015 in Bonn, Germany, to discuss a Global Strategy for the Conservation and Utilization of Tropical and Subtropical Forage Genetic Resources. This newsletter is the 6th of the series. The former newsletters are available from http://goo.gl/vn9VZX. The newsletter is published under the auspices of the CGIAR Research Program "Genebanks"; its editors are Bruce Pengelly and Brigitte Maass, consultants of the Global Crop Diversity Trust.

Tables of composition and nutritional values of organically produced feed materials for pigs and poultry - Kyntäjä et al., 2014. MTT Report 164
This reports presents the composition and nutritive values for pigs and poultry of 40 organically produced feeds and roughages. Energy and protein values are provided according the French, Dutch, Danish, British, German and Swiss feed evaluation systems.

Métodos de pesquisa em nutrição de monogástricos - Sakomura et al., 2007. Jaboticabal, FUNEP, 283 p.
This book presents the concepts and experimental protocols used in monogastric nutrition research to determine the nutritional values and requirements for energy, protein, amino acids, minerals, and vitamins.